My final "monster" for this October countdown is the wonderfully horrible Baba Yaga!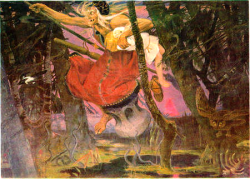 ( This got long, so I hid it behind the cut. )
I'd not heard of Baba Yaga until I read
The Books of Magic
by Neil Gaiman back in college. Then I found the
Vasilisa the Brave
stories in which Baba Yaga appears (Arch-Crone plus brave female protagonist = WIN WIN!!!) Baba Yaga is a powerful force, and her stories are lots of fun to read.
So there we are. No more monsters. I hope you've enjoyed the month of (hopefully) new-to-you scary creatures (or at least new-to-you trivia about them). It is, as always, a delight to countdown to Halloween.